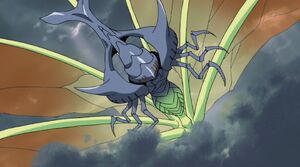 Čomei ili poznatiji kao sedmorepi je jedan od devet repatih demona, bio je zapečaćen u kunoičiju seal vodopada, Fuu. Bio je uhvaćen i zapečaćen od strane Akackija, a kasnije je ponovo zapečaćen u Fu, tokom šinobi svetskog rata. 
Pozadina
Čomei je sedmi od devet repatih demona, koji su nekada svi zajedno bili sjedinjeni u desetorpeog demona Džubi. Mudrac šest staza(rikudo senin) je u sebe zarobio desetorepog demona, postavši prvi džindžuriki ili osoba koja u sebi ima čakra demona. Mudrac je od tog trenutka smatran nalik bogu. Međutim na samrtio mudra je znao da će demon kao on umre da se oslobodi, pa je podelio njegovu čakru na devet repatih zveri, a telo demona zatvorio u sveran oblik i poslao ga na nebo, što je postalo mesec.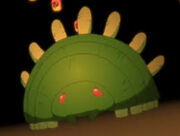 Sedmorepi je kasnije pao u posed
Sela vodopada
, a potom je bio zapečaćen u Fu. On je kasnije bio zarobljen od strane Akackija.
Izgled
Čomei podseća na plavu, oklopnu kabutomuši (カブトムシ, rhinoceros beetle), sa šest svojih sedam repova koje podsećaju na zelena krila insekata, zajedno sa stvarnim sedmim repom, sve raste do kraja njenog stomaka.
.
Ad blocker interference detected!
Wikia is a free-to-use site that makes money from advertising. We have a modified experience for viewers using ad blockers

Wikia is not accessible if you've made further modifications. Remove the custom ad blocker rule(s) and the page will load as expected.