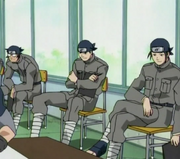 Čunin (u prevodu srednji nindža) su nindže koji su dostigli nivo zrelosti i sposobnosti da vode nindža misije. Čunin se postaje polaganjem Čunin ispita, neki čunini kao npr. Iruka Umino su profesoti na akademiji. Čunini se uglavnom šalju na B-rang i C-rang misije.
Ad blocker interference detected!
Wikia is a free-to-use site that makes money from advertising. We have a modified experience for viewers using ad blockers

Wikia is not accessible if you've made further modifications. Remove the custom ad blocker rule(s) and the page will load as expected.