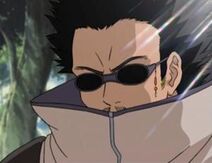 Šibi Aburame je džonin level šinobi sela lišća. On je otac Šinoa Aburamea i član Aburame klana.
Pozadina
Kada je Šikuro Aburame umro Šibi je bio zadužen da čuva njegovog sina Torunea. Za to vreme Torune je postao jako blizak sa Šibijevim sinom Šinom, stvarajući bratski odnos između njih. Jednog dana pojavio se Danzo Šimura da regrutuje još jednog člana za njegovu ANBU Rot fondaciju i izrazio je interesovanje za Šinoa. Šibi je želeo da se situacija malo smiri, i razgovarao je sa 3. Hokageom ne želeći da se odrekne svog sina. Međutim Danzo je imao puno ovlašćenje da uzme Šinoa. Pre nego što je doneta odluka Torune se ponudio da bi spasio Šinoa.
Sposobnosti
Šibi u borbi koristi svoje insekte kao i svi ostali članovi Aburame klana.
Pregled priče
Šibi u prvom delu ima samo jedno pojavljuvanje i to kada pomoću svojih kikačua vadi otrov iz svog sina.
U drugom delu se pojavljuje za vreme invazije na selo kada se zajedno sa članovima klana bori protiv Konan.
Za vreme četvrtog rata, Šibi je predvodio tim koji je bio poslat da zaustavi Naruta.
Ad blocker interference detected!
Wikia is a free-to-use site that makes money from advertising. We have a modified experience for viewers using ad blockers

Wikia is not accessible if you've made further modifications. Remove the custom ad blocker rule(s) and the page will load as expected.