Šikaku Nara (奈良シカク, Nara Shikaku) je džonin komandir iz Sela sakrivenog u Lišću, vođa Nara klana i zajedno sa Čozom i Inoičijem čini Ino-Šika-Čo trio.
Pozadina
Kada je bio genin, Šikaku je bio partner sa Čozom Akimičijem i Inoičijem Jamanaka pod vođstvom nepoznatog člana Sarutobi klana. Za vreme napada devetorepe lisice, branio je selo.
Sposobnosti
Kao džonin komandir i vođa klana, Šikaku je veoma moćan šinobi.
Kao i drugi članovi Nara klana, on ima sposobnost da manipuliše senkama, a kao vođa klana verovarno je upućen u tajne tehnike Nara klana.
Pregled priče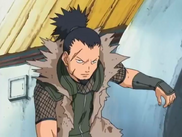 Deo I
Za vreme invazije Sela Peska i Sela Zvuka branio je selo sa ostalim šinobijima Sela Lišća.
Deo II
U drugom delu je prikazano da je preživeo Pejnovu invaziju na selo, rekao je svom sinu da ne ulazi u Narutovu borbu sa Pejnom. 
Na izboru novog Hokagea, predložio je Kakašija, ali je njegov predlog oboren zbog Danzove intervencije i njegove želje da i sam postane hokage. 
Tokom šinobi rata, postavljen je za glavnog stratega Savezničkih Šinobi Snaga, kasnije je poginuo napadom desetorepe zveri.
Smrt
Šikaku je umro napadom Džubija, zajedno sa njim umrli su Ao i Inoiči.
Ad blocker interference detected!
Wikia is a free-to-use site that makes money from advertising. We have a modified experience for viewers using ad blockers

Wikia is not accessible if you've made further modifications. Remove the custom ad blocker rule(s) and the page will load as expected.