Šikotsmjauku je kekai genkai izumrlog klana. Omogućava korisnicima da manipulišu kostima. Pomoću svoje čakre oni mogu da produže svoje kosti u zavisnosti on njihove volje.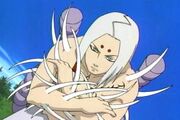 Korisnici ovog kekei genkai imaju drugačiju strukturu skeleta od ostalih, to je dokazano kada je Kabuto rekao da nema lek za Kimimara jer mu je skelet specifičan.
Sposobnosti
Šikotsmjuaku kao što je već navedeno ima sposobnost da koristi kosti. Korisnik može da produži svoje kosti i učini ih jačim od čelika. Takodje kosti može da koristi kao mečeve. Većinu tehnika koju Kimimaro koristi u nazivu ima reč cvet i većina je taidžicu.
Zanimljivosti
Kimimaro,Oročimaru i Kabuto su jedini koji su prikazan sa ovim sposobnostima.
Ad blocker interference detected!
Wikia is a free-to-use site that makes money from advertising. We have a modified experience for viewers using ad blockers

Wikia is not accessible if you've made further modifications. Remove the custom ad blocker rule(s) and the page will load as expected.