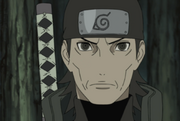 Šinku Juhi
je bio šinobi iz
Sela Lišća
, kao i otac Kurenai Juhi.
Sposobnosti
Ne zna se mnogo o njegovim sposobnostima, tokom svog života Šinku je nosio rang Džonina, predpostavlja se da je mogao da koristi vatreni stil.[1] Takođe se predpostavlja da je kao i ćerka bio isto vešt Gendžicu korisnik.[2]
Pozadina
Kada je Kurama napala Selo skriveno u lišću, Šinku je zabranio Čuninima da učestvuju u ovom napadu, na šta se njegova ćerka protivila. Verovatno je kao i većina šinobija Šinku učestvovao u odbrani Sela Lišća od Kurame, gde je najverovatnije i pogunio.[3][4]
Izvori
Ad blocker interference detected!
Wikia is a free-to-use site that makes money from advertising. We have a modified experience for viewers using ad blockers

Wikia is not accessible if you've made further modifications. Remove the custom ad blocker rule(s) and the page will load as expected.