Pažnja: Molimo vas da NE pišete gluposti po člancima, tipa "Ovaj lik ne valja", "Ovaj lik valja", "On mi je omiljeni lik", "On je najjači"... Takođe ne smete vređati druge i pisati ružne reči!

Šizune je pomoćnica Cunade i nećeka Cunadinog ljubavnika Katoa Dana.
Pozadina
Šizune je vrlo iskusan šinobi i vrlo iskusan medicinski nindža. Ona je pratila Cunade, kada je ova otišla iz sela. Kada je Oročimaru ponudio dogovor Cunadi, Šizune je rekla da će je zaustaviti da ne bi napravila grešku.
Sposobnosti
Kao pomoćnica Cunadeu, Šizune je veoma vešt nindža. Ona je veoma brza i precizna u svojim napadima. Njene napadačke tehnike se uglavnom vrte oko otrovnih tehnika. Njena kontrola čakre je dosta dobra što joj omogućava da radi i najsloženije mesicinske tehnike. Njene medicinske tehnike su dovoljno velike da ona postane kapetan Medicinske divizije u četvrtom šinobi ratu.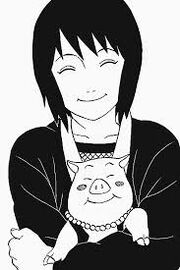 Ad blocker interference detected!
Wikia is a free-to-use site that makes money from advertising. We have a modified experience for viewers using ad blockers

Wikia is not accessible if you've made further modifications. Remove the custom ad blocker rule(s) and the page will load as expected.