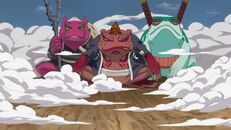 Žabe su najzastupljenije životinje u mangi i animeu. Neki od glavnih likova u seriju imaju sposobnost da ih prizovu ( Naruto, Džeraja, Minato).
Poznate žabe
Gamaden
Gamariki
Gamatama
Gamatacu
Gekomacu
Gerotora
Ostale
Amačan
Gamaspid
Gamasoup
Breskva
Posebne žabe
Takođe postoje posebne žabe koje se koriste za neke tehnike ili imaju posebnu svrhu
Žablji želudac
Žaba prodavnica
Žablja tikva
Žaba glasnik
Ronilačka žaba
Žaba svitak
Ad blocker interference detected!
Wikia is a free-to-use site that makes money from advertising. We have a modified experience for viewers using ad blockers

Wikia is not accessible if you've made further modifications. Remove the custom ad blocker rule(s) and the page will load as expected.