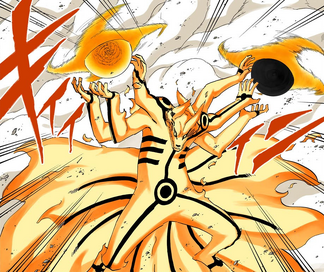 Ovo je najjača Ašurina tehnika. Ovaj mod mogu da koriste Naruto i Ašura. Malo se zna o njemu, ali zna se da je
mnogo jak, slično kao najjači oblik Susana. Naruto je mogao da ga iskoristi da napravi najjaču varijaciju Rasengana (Šest Puteva:Masivni Rasenšuriken). Naruto je nadogradio ovaj mod koristeći i Kuraminu čakru, i tako bi na njemu stvorio tri Kuramine glave sa mnogo izuzetno jakih Bombi repate zveri, pojačanih sa prirodnom energijom.
Ad blocker interference detected!
Wikia is a free-to-use site that makes money from advertising. We have a modified experience for viewers using ad blockers

Wikia is not accessible if you've made further modifications. Remove the custom ad blocker rule(s) and the page will load as expected.