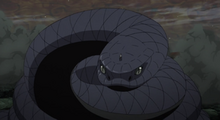 Aoda je stanovnik Riuči pećine i lična zmija Saskea Učihe.
Pozadina
Ne zna se mnogo o Aodi, osim što je upoznao Saskea u nekom trenutku, verovatno tokom treninga sa Oročimaruom.
Ličnost
Za razliku od Mande, Aoda je veoma blag i poštuje onoga koga prizove, kao što je prikazano kada se Aoda obraća Saskeu sa sufiksom "Sama" (Gospodar). Takođe Aoda bespogovorno sledi sve Saskeove naredbe bez potrebe da bude kontrolisan.
Izgled
Aoda je velika plava zmija sa zelenim očima. On se uzdiže iznad drveća, zgrade baš kao Manda nekada. Aoda je od prilike iste veličine kao Manda.
Sposobnosti
Kao zmija Aoda je veoma brz i okretan, uspešno se kreće kroz armiju klonova desetorepe, dok izbegava sve njihove napade. U anime, takođe je pokazao da poseduje veliku snagu. Manda je izjavio da Aoda može donekle da mu bude rival.
Pregled radnje
Prvi put je viđen u Četvrtom Svetskom Šinobi ratu. Prizvan je zajedno sa Kacujom i Gamakičijem u borbi protiv desetorepe.
Zanimljivosti
Iako je Aodino ime žensko, ova zmija je zapravo muško.
Ad blocker interference detected!
Wikia is a free-to-use site that makes money from advertising. We have a modified experience for viewers using ad blockers

Wikia is not accessible if you've made further modifications. Remove the custom ad blocker rule(s) and the page will load as expected.