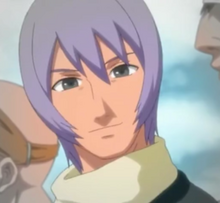 Araši je bio nada za svoj klan i pokušao da ga obnovi.
Pozadina
Nakon što je Fuma klan završio rat sa susjednom zemljom. Jednom prilikom on i još neki članovi sastali su se sa Oročimaruom, on im je ponudio da će im vratiti slavu, oni poverovavši mu krenuli su za njim. Araši se smatrao kao nada klana zajedno sa: Jigumo, Kamikiri, Kotohime i Kegero, oni su prihatili Oročimaruov plan i krenuli za njim.
Izgled
Araši ima dugu, glatku ljubičastu kosu i sive boje oči. Njegove šiške vise samo nad obrvima. Nosio je zelenu majcu sa kratkim rukavima, ali kragna i rukavi bili su bjeli i imao je sive pantalone.
Sposobnosti
Araši je bio jedan od najtalentavanijih članova Fuma klana. Nakon apsorbavanja njegovog tjela sa još 2 člana Fuma klana on dobija sposobnost za tajnu tehniku Fuma klana koja ima oblik male piramide u obliku barijere koja sputava i potencijalno drobi protivnika.
Pregled priče
Deo 1
Pre nego što je pronašao Naruta,Sakuru i Sasame, Araši je ubio svoja 2 brata Jiguma i Kimikiri i koristi tehniku da se spoji sa njihovim telima, isto tako da poveća svoje moći po cjenu svog razuma. U borbi koja je sledila Naruto uništava jednog od njegove braće ali on se brzo vraća na njegovo telo. Medjutim, borba je uništila jazbinu pa se ruši, ali njegove lutke ga drže u mjestu da nemože da pobegne, tada je spasio Sasame i tu je umro.
Zanimljivosti
Ad blocker interference detected!
Wikia is a free-to-use site that makes money from advertising. We have a modified experience for viewers using ad blockers

Wikia is not accessible if you've made further modifications. Remove the custom ad blocker rule(s) and the page will load as expected.