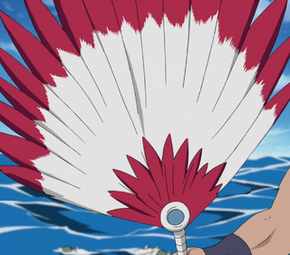 Bašosen je velika lepeza koja može da koristi svih 5 prirodnih elemenata.Može da se koristi za napad dok u animeu može da se koristi i za odbranu.
Jedo je Svetog Blaga Mudraca Šest Puteva.Da bi se koristio zahteva veliku količinu čakre.U nekom trenutku Bašosen je dospeo u posed Sela Sakrivenog u Oblacima u Kinkauove ruke.
Kada ga je Kabuto reinkarnirao i dalje ga je imao u posedu ali ga je ispustiou borbi sa Daruijem.
Bašosen

Anime

Naruto Šipuden 269

Manga

Poglavlje 527

Igra

Naruto Shippūden: Ultimate Ninja Storm 3

Korisnici

Hagoromo Ocucuki Kinkaku Tenten
Tada je došao u ruke Tenten koja ga je iskoristila u da uništi jednu od Kakuzuovih maski.
Posle Rata Tenten ga je izložila u svojoj prodavnici oružja
Iskorištene Tehnike
Bašosen:Kalem Vatre
Bašosen:Kalem Vetra
Tehnike Ekskluzivne za Igru
Bašosen:Kalem Vode
Bašosen:Kalem Zemlje
Bašosen Kalem Munje
Ad blocker interference detected!
Wikia is a free-to-use site that makes money from advertising. We have a modified experience for viewers using ad blockers

Wikia is not accessible if you've made further modifications. Remove the custom ad blocker rule(s) and the page will load as expected.