Baru Učiha

サスケバル Uchiha Baru
Pojavljivanje
Anime
Naruto Šipuden epizoda #338
Pojava
Anime
Informacije
Pol
Muški
Visina
Deo II: 180,4 cm
Kekei Genkai
Šaringan
Mangekjo Šaringan
Klan
Učiha Klan
Nindža Rank
Baru Učiha (サスケバル, Uchiha Baru) je bio šinobi i član Učiha Klana.
Pozadina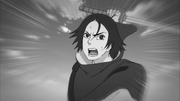 Kao rođeni član Učiha Klana Baru je probudio Šaringan i Mangekjo Šaringan.Zbog svojih Doudžicu sposobnosti bio je u stanju da koristi Izanagi.Nakon Raievog korišćenja Izanagija i izjave da želi da zavlada [Učiha Klan[Klanom]], pa čak i celim svetom, Baru rešava da ga napadne. Pošto Baru pomoću Izanagija uspeva da ubije Raia, govori kako preuzima sve Raieve snove o vladavini svetom, nakon čega ostale Učihe rešavaju da ga ubiju.
Ličnost
Baru je pohlepna i zla osoba koja želi da zavlada celim svetom čak i po cenu ubijanja svojih saboraca.
Sposobnosti
O njegovim sposobnostima se ne zna mnogo, sem da je ovladao Šaringanom, Mangekjo Šaringanom i Izanagijem. Pored njegovih Doudžicu sposobnosti on je takođe ovladao i kendžicuom.
Ad blocker interference detected!
Wikia is a free-to-use site that makes money from advertising. We have a modified experience for viewers using ad blockers

Wikia is not accessible if you've made further modifications. Remove the custom ad blocker rule(s) and the page will load as expected.