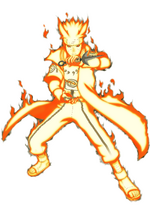 Biju mod je zapravo Čakra mod Kurame. Naruto i Minato su jedini koji mogu da uđu u ovaj mod. Naruto je mogao da ga koristi kada je pobedio Kuramu u svojim mislima. Minato je postao Kuramin Dzinčuriki posle smrti jer ju je zapečatio Demonskim Kosačem Smrti.
Mogućnosti
U Biju modu korisnik ima Čakra ruke i Čakra mu se uvećava mnogo puta. Naruto je mogao Biju mod da kombinuje sa Sejdž modom, Minato je to mogao samo u Mangi. Naravno tada korisnik ima Bombu Repatih Zveri, Naruto je mogao da kombinuje Bombu sa Rasenšurikenom. Tada može da napravi svoju repliku Kurame. Tada postaje dosta brži i bolji u Tajdžicu.
Sejdž Mod Šest Staza
Ovaj mod su imao Hagoromo Ococuki i njegov sin Ašura. U borbi protiv Džubija (desetorepog) Hagoromo je dao svoje moći Narutu i Saskeu pa je Naruto dobio ovu moć. Kada uđe u ovaj mod količina čakre se uvećava mnogo puta a fizička snaga i brzina se mnogo povećavaju. Takođe korisnik može da koristi sve moći Mudraca Šest Staza. Ašura je od oca nasledio životnu silu i veliku količinu čakre.
Poboljšanja
Buju mod se može poboljšati tako što mu se doda sendžicu čakra i tako se spoje Biju i Sejdž Mod. Kada se prirodna i Kuramina energija spoje postiže se veća moć u nindžicuu i tajdžicuu, a bomba repate zveri je još jača.
Ad blocker interference detected!
Wikia is a free-to-use site that makes money from advertising. We have a modified experience for viewers using ad blockers

Wikia is not accessible if you've made further modifications. Remove the custom ad blocker rule(s) and the page will load as expected.