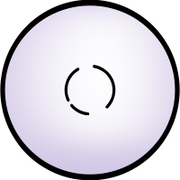 Bjakugan je kekei genkai Hjuga klana. Sa Šaringanom i Rinenganom čini tri velika doudžicua. Kada je aktiviran oko očiju znatno se izražavaju vene. Bjakugan su htele da ukradu nindže oblaka, kao i Ao iz sela magle koji u svojem levom oku ima Bjakugan. Za razliku od Šaringana, Bjakugan može da se deaktivira i aktivira po volji korisnika. Prva osoba sa Bjakuganom je bila
Kaguja Ocucuki
, a zatim njen sin Hamura.
Sposobnosti
Bjakugan ima nekoliko sposobnosti. Prva je da stvara viziju svom korisniku da može da vidi 360º oko sebe sem jedne male tačke iznad trećeg pršljena na ledjima.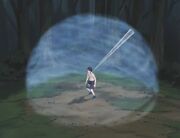 Druga sposobnost je teleskopski vid. On varira od osobe do osobe. U I delu, Nedži je mogao da vidi udaljenosti od 50m, ali on kasnije povećava svoj vizelni opseg do 800m, dok je Hinata Hjuga u II delu mogla da vidi najmanje 10km.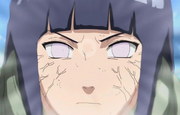 Međutim, Bjakugan ne može da vidi kroz određene prepreka, kao što su Borbena Formacija Borbe Crne Magle koju koristi zvučna četvorka. Treća sposobnost je da može da vidi čakru, protok čakre isto kao i čakrinu cirkulaciju kroz telo sa najsitnijim detaljima. Takodje, Bjakugan omogućava korišćenje nekih taidžicu tehnika. Nedži je zbog dobrog poznavanja Bjakugana prozvan genijem u svom klanu.
Zanimljivosti
Kakaši je naveo da je Šaringan nekada davno izved iz Bjakugana.
Bjakugan je jedini doudžicu koji nije bio u posedu Akackija.
Muta Aburame je rekao da Tokuma ima najači Bjakugan.
Bjakugan je prvi nastali doudžicu.
Ad blocker interference detected!
Wikia is a free-to-use site that makes money from advertising. We have a modified experience for viewers using ad blockers

Wikia is not accessible if you've made further modifications. Remove the custom ad blocker rule(s) and the page will load as expected.