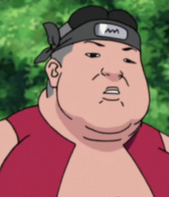 Burami
je šinobi genin nivoa iz Sela skrivenog među Travom. On je prikazan u fileru, zajedno sa Mujamijem i Kazamijem.
Sposobnosti
Burami je dosta dobar u tajdžicu borbi. On ima veću masu nego Čodži, i koristi stomak da odbije protivničke napade.
Pozadina
Burami, zajedno sa svojim timom ide na čunin ispite u Selo skriveno među Peskom. Tu se bore protiv tima Kurenai koji ih je u dva navrata uspeo da pobedi. Burami se tom prilikom borio sa Kibom i Akamaruom.
Ad blocker interference detected!
Wikia is a free-to-use site that makes money from advertising. We have a modified experience for viewers using ad blockers

Wikia is not accessible if you've made further modifications. Remove the custom ad blocker rule(s) and the page will load as expected.