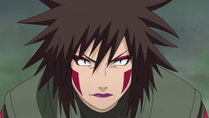 Cume Inuzuka je tokubecu džonin iz sela lišća i član je Inuzuka klana. Njen partner je Kuromaru, a ona je majka Kibi i Hani.
Sposobnosti
Od svojih sposobnosti ona koristi sposobnosti svog klana.
Pregled priče
Prvi deo
Cume se u prvom delu zajedno borila sa Hanom protiv šinobija iz sela Peska i Zvuka.
Drugi deo
U drugom delu ona se zajedno sa Kibom bori protiv jednog od pejnovih tela.
Ad blocker interference detected!
Wikia is a free-to-use site that makes money from advertising. We have a modified experience for viewers using ad blockers

Wikia is not accessible if you've made further modifications. Remove the custom ad blocker rule(s) and the page will load as expected.