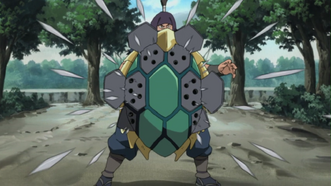 Curukame je štit koji je stvorio Iō. On sadrži ugrađeni mehanizam za paljbu nindža alata kao što su bombe i senboni. Ako štitu ponestane alata korisnik može da ubaci svitak sa alatima u odeljku na leđima i tako ga napuni.
Zanimljivosti
Kran i kornjača su umetnički motiv, koriste se kao simbol dugovečnosti. Kran živi hiljadu godina, kornjača živi deset hiljada godina.
Ad blocker interference detected!
Wikia is a free-to-use site that makes money from advertising. We have a modified experience for viewers using ad blockers

Wikia is not accessible if you've made further modifications. Remove the custom ad blocker rule(s) and the page will load as expected.