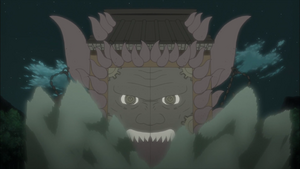 Ova tehnika omogućava korisniku da prizove kapiju koja je u stanju da blokira skoro svaki napad, tehnika je B ranga. Potrebno je dve osobe da pozovu kapiju, kao što su to uradili Sakon i Ukon, ali Oročimaru i Haširama uspevaju da prizovu Rašomon koristeći obe ruke.  
Zanimljivosti
Sakon i Ukon su rekli da je ovo najača Oročimaruova odbrana.

Rašomon se još zove i Sendžu Rašomon
Oročimaru, Sakon i Ukon koristi tri kapije, dok Haširama pet kapija 

Rašomona.

Iako je ovo odbrambena tehnika, u video igrama se koristi kao napad.
U igri postoji Rašomon:Pakao koji se nalazi na zemlji i kada se otvori guta protivnika prebacuje protivnika u drugu dimenziju
Ad blocker interference detected!
Wikia is a free-to-use site that makes money from advertising. We have a modified experience for viewers using ad blockers

Wikia is not accessible if you've made further modifications. Remove the custom ad blocker rule(s) and the page will load as expected.