Džicu Reinkarnacije (転生忍術, Tensei Ninjutsu)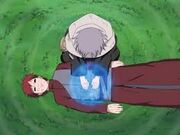 je jednistveni nindžicu koji omogućava korisniku da oživi nekog nindžu dajući mu svoju životnu energiju da bi ga oživeo. Rezultat korišćenja je smrt onoga koji koristi ovu tehniku.
Poznati korisnik ove tehnike je Čijo. Ona je dva puta koristila ovu tehniku. Prvi put kad je oživljavala Sakuru, ali Čijo je ostala živa jer Sakura nije bila mrtva nego samo teško ranjena, a drugi put kad ja oživela Garu koji je bio mrtav i ona je umrla.
Ad blocker interference detected!
Wikia is a free-to-use site that makes money from advertising. We have a modified experience for viewers using ad blockers

Wikia is not accessible if you've made further modifications. Remove the custom ad blocker rule(s) and the page will load as expected.