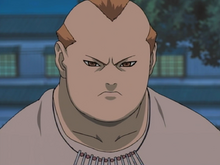 Džirobo (jap. 次郎坊,engl. Jirōbō)  je bio šinobi iz sela zvuka i član četvorka zvuka.
Sposobnosti
Prema Oročimaruu, Džirobo je bio fizički najači član četvorke zvuka, ali je bio u sevemu ostalom najslabiji, njegovi članovi tima su smatrali da je on ipak težak protivnik. Džirobo je mogao da absorbuje čakru i kao i svi članovi njegovog tima imao je znak kletve, mogao je tadođe da koristi zemljani stil.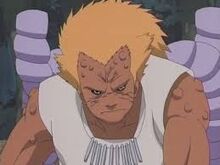 Pregled priče
Džirobo se prvi put pojavljuje za vreme invazije na selo lišća kada je zajedno sa ostatkom svog tima napravio veliku barijeru oko mesta gde su se borli Oročimaru i Hiruzen.
Kasnije je poslat od strane Oročimarua da zajedno sa ostatkom četvorke zvuka dovede Saskea Učihu. Kada je stigao u Konohu Saske je dobrovoljno odlučio da pođe. Na putu ka selu zvuka, četvorka se susreće sa dva džonina iz sela lista i koriste svoje znakove kletve da ih pobede. U međuvremenu, napada ih Šikamaruom tim. Džirovo ostaje da se bori jedan na jedan sa Čodžijem, a ostali odlaze. Džirobo je posle duge borbe ubijen Čodžijevom specijalnom tehnikom.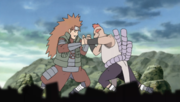 Džirobo je oživljen u Četvrtom ratu.
Ad blocker interference detected!
Wikia is a free-to-use site that makes money from advertising. We have a modified experience for viewers using ad blockers

Wikia is not accessible if you've made further modifications. Remove the custom ad blocker rule(s) and the page will load as expected.