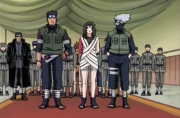 Džonin (u prevodu znači Elitni nindža), su nindža sa velikim iskustvom i velikom veštinom. Uglavnom se šalju na misije A-ranga, ali oni najači i najiskusnije, mogu biti poslati na misije S-rana (najteže misije). Generalno džonin mora da poseduje dva tipa čakre, da ima taidžicu iznad proseka i da poznaje neke gendžicu tehnike.
Nije poznato da li postoji džonin ispita da bi se postao džonin. Džonin može biti vodja tima sa još tri genina, kako bi ih učio novim tehnikama i spremao za više rangove. U selu lišća postoji Džonin komandir, kao i Tokubetcu (specijalni) džonin.
Ad blocker interference detected!
Wikia is a free-to-use site that makes money from advertising. We have a modified experience for viewers using ad blockers

Wikia is not accessible if you've made further modifications. Remove the custom ad blocker rule(s) and the page will load as expected.