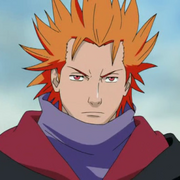 Džugo je nindža iz neimenovanog klana i bio je član Saskeovog tima Taka (prvobitno Hebi).
Pozadina
Džugo je po prirodi miran i veoma tih, ali kada se naljuti retko ko u njegovoj okolini može da preživi. Jednom prilikom je postao toliko ljut da je pobio celo jedno selo. Posle ovog dela, Džugo je otišao u pećinu nadajući se da nikad više neće napraviti istu grešku. To je trajalo sve dok ga nije pronašao Kimimaro. Prateći Kimimara pristao je da bude jedan od Oročimaruovih ljudi za ispitivanje. Nakon ispitivanja, Oročimaru je bio u stanju da izoluje enzime u Džugoovj krvi. Izdvajanjem ovih enzima Oročimaru je bio u stanju da ih koristi da proizvede slične, ali kontolisane efekte u drugim ljudima, što je dovelo do stvaranje prokletog pečata. Kada je Kimimaro poginuo, Džugo je zatvoren u tamnicu.
Ad blocker interference detected!
Wikia is a free-to-use site that makes money from advertising. We have a modified experience for viewers using ad blockers

Wikia is not accessible if you've made further modifications. Remove the custom ad blocker rule(s) and the page will load as expected.