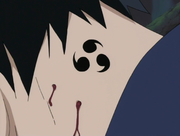 Džuindžicu je vrsta tehnike koje se koriste da bi se neke osoba držala pod kontrolom. Primenom pečata na telo žrtve, korisnik dovodi sposobnosti i akcije žrtve pod njegovom kontrolom. Sa jednostavnim tajnim znakovima rukama, korisnik može da nanese veliku mentalnu i fizičku patnju žrtvi. Tačno delovanje džuindžicua je čuvana tajna.
Zanimljivosti
Oznake na Šukaku-ovom telu su prirodno prokleti pečati koji mu omogućavaju da zapečati protivnika.
Ad blocker interference detected!
Wikia is a free-to-use site that makes money from advertising. We have a modified experience for viewers using ad blockers

Wikia is not accessible if you've made further modifications. Remove the custom ad blocker rule(s) and the page will load as expected.