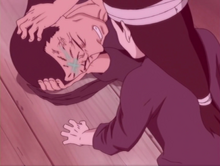 Džuindžicu Hjuga klana je bio poseban znak kletve koji su nosili svi članovi sporedne kuće u Hjuga klanu. Kada se rode dvoje dece u Hjuga klanu , starije dete postaje član glavne kuće a mlađi biva postavljen za člana sporedne kuće. Zatim član sporedne kuće na svoj četvrti rođendan mora da bude žigosan ovim znakom kletve. Razlog za to je zaštita bjakugana od krađe iz drugioh sela jer nakon smrti, bjakugan osobe koja nosi znak kletve nestaje i ne može se presaditi. Glavna kuće pomoću ovog znaka može da kontroliše sporednu. U slučaju da član glavne aktivira znak, to izaziva neverovatan bol a može čak i da uništi ćelije mozga. Godinama još od vremena Hjuga starešine, ovaj znak su nosili svi članovi sporedne kuće. Međutim, gospodar Hiaši, setivši se žrtve svog brata Hizašia, ukida znak kletve u znak poštovanja prema članovima sporedne kuće i samom Nedžiju.
Zanimljivosti
Svi članovi sporedne kuće su nosili traku za glavu sela lišća da bi sakrili znak kletve.
S obzirom da mu je uzeo Bjakugan, predpostavlja se da je Ao ubio člana glavne kuće.
Ad blocker interference detected!
Wikia is a free-to-use site that makes money from advertising. We have a modified experience for viewers using ad blockers

Wikia is not accessible if you've made further modifications. Remove the custom ad blocker rule(s) and the page will load as expected.