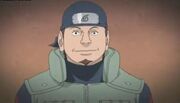 Daikoku Funeno je nindža čunin iz Sela sakrivenog u Lišću koji radi kao učitelj na nindža akademiji.
Pozadina
Kada je Saske upisan na akademiju, Daikoku se priseća Itačijevog boravka na akademiji. Navodi da je Itači bio veoma nadaren, da je bio najtalentovaniji od sve dece i da to isto očekuje i od Saskea. Dao je savete Iruki kako da se ponaša sa Narutom.
Ad blocker interference detected!
Wikia is a free-to-use site that makes money from advertising. We have a modified experience for viewers using ad blockers

Wikia is not accessible if you've made further modifications. Remove the custom ad blocker rule(s) and the page will load as expected.