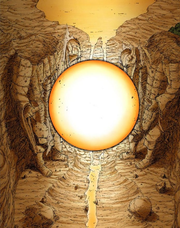 Dolina kraja je mesto gde su se sukobili prvi hokage, Hašimara i Madara Učiha. Nalazi se na granici zemlje Vatre i zemlje Zvuka. Njihova borba je prouzrokovala izlivanje reke.
U znak sećanja na borbu izmedju njih dovjice podignute su statue. Hašimarina statua na strani zemlje Vatre i Madarina na strani zemlje zvuka.
U prvom delu Naruta, u dolini kraja su se sukobili Saske i Naruto. Naruto koji je želeo da vrati Saskea nazad u selo lišća i Saske koji je želeo da ubije Naruta da bi dobio Mangekjo Šaringan. Saske je pobedio u ovoj borbi, ali ga nije ubio, jer nije želeo da pođe stopama svog starijeg brata. U drugom delu Tobi je prikazan kako sedi na vrhu statue i razmišlja šta će raditi sa Saskeom. Statue su oštećenje u Saskeovoj i Narutovoj borbi.
Zanimljivosti
U Dolini Kraja su se sukobili i prva i druga Indrina i Ašurina reinkarnacija.
Ad blocker interference detected!
Wikia is a free-to-use site that makes money from advertising. We have a modified experience for viewers using ad blockers

Wikia is not accessible if you've made further modifications. Remove the custom ad blocker rule(s) and the page will load as expected.