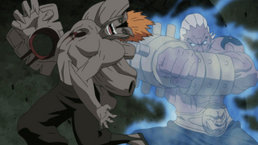 Nakon što A koristi svoje munjeviti štit, on svog protivnika velikom snagom udara svojim laktom. Ova tehnika je bila dosta jaka kada je jednim udarcem Džuga onemogućila da se dalje bori.
Ad blocker interference detected!
Wikia is a free-to-use site that makes money from advertising. We have a modified experience for viewers using ad blockers

Wikia is not accessible if you've made further modifications. Remove the custom ad blocker rule(s) and the page will load as expected.