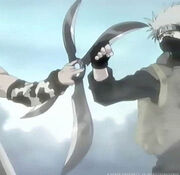 Fūma Šuriken
je veliki šuriken sa četiri oštrice koji poseduje nadmoćnu oštrinu. Ovaj tip šurikena se smatra karakterističnim za Fuma klan. Međutim njihova upotreba nije ograničena na klan. Njegove četiri oštrice mogu da se skupe radi lakšeg skladištenja, što je dovelo do njegovog nadimka Vetrenjača senke.
Kao što su Zabuza Momoči i Obito Učiha pokazali, šuriken se može koristiti u bliskoj borbi, okretanjem sečiva u jednoj ruci ubodeš protivnika direktno.
Zanimljivosti
Narutov Rasenšuriken uzima formu Fūma Šurikena.
Obitov Mangekyo Šaringan ima oblik Fūma Šurikena.
Ad blocker interference detected!
Wikia is a free-to-use site that makes money from advertising. We have a modified experience for viewers using ad blockers

Wikia is not accessible if you've made further modifications. Remove the custom ad blocker rule(s) and the page will load as expected.