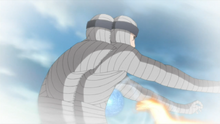 Fisiona tehnika je džicu koji Mu koristi da podeli svoje telo na dva dela. Ovu tehniku ne treba mešati sa bilo kakvim tehnikama klona jer korisnik ne stvara replike sebe već deli svoje telo. Loša strana ove tehnike je kada se izvede a jedno telo bude uništeno drugo telo ostaje na pola snage i postaje ranjivo.
Ad blocker interference detected!
Wikia is a free-to-use site that makes money from advertising. We have a modified experience for viewers using ad blockers

Wikia is not accessible if you've made further modifications. Remove the custom ad blocker rule(s) and the page will load as expected.