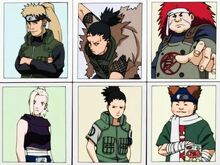 Formaciju Ino-Šika-Čo je tehnika koju koriste članovi Akimiči, Nara i Jamanaka klana. Ovu formaciju koriste članovi ovih klanova. Zahvaljujući dugogodišnjom saradnjom među ova tri klana, ova formacija osmišljena je tako da koristi prednost porodičnog džucua svakog od ova tri klana. Ta tri Džucua su obično Tehnika posedovanja senke od Nara klana, Tehnika uvećanja od Akimiči klana i Tehnika uništenja uma od Jamanaka klana. Korisnici ove formacije
Ad blocker interference detected!
Wikia is a free-to-use site that makes money from advertising. We have a modified experience for viewers using ad blockers

Wikia is not accessible if you've made further modifications. Remove the custom ad blocker rule(s) and the page will load as expected.