Fujdžin i njegov mlađi brat Rajdžin su legendarna glupa braća.
Pozadina
Ova dva brata su poreklom iz nepoznatog sela, takođe o njima se zna vrlo malo. Dok su jeli sa svojim drugovima, njihovi prijatelji su uzimali više hrane a oni su bili žestoko ljuti pa su ih ubili. Nakon tog incidenta zatvoreni su u Konoha strogo popravnom zatvoru. Mizuki ih je izmanipulisao obaćevajući im "veliku gozbu." Oni su se borili protiv Tima Asuma. Bili su nadomak pobede, ali Cunade je uletela i jako lako ih pobedila.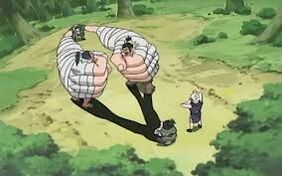 Ličnost
Braća mnogo vole da jedu, kada im neko ne da da jedu oni se naljute i prete mu da će ga ubiti ako im ne donese nešto za jelo. Tako su stražari u zatvoru njih kontrolisali. 
Sposobnosti
Oba brata imaju monstruoznu snagu, što su pokazali kada su se Šikamaruovom Džicuu Senke Posedovanja opirali čistom fizičkom snagom, i neverovatnu brzinu, o njihovim sposobnostima se skoro ne zna ništa.
Zanimljivosti
Fujdžin deli njegovo ime sa Šinto bog vetra, a Rajdžin sa Šinto bog groma.
Fudžin i Rajdžin su poznati kao legendarna glupa braća.
Ad blocker interference detected!
Wikia is a free-to-use site that makes money from advertising. We have a modified experience for viewers using ad blockers

Wikia is not accessible if you've made further modifications. Remove the custom ad blocker rule(s) and the page will load as expected.