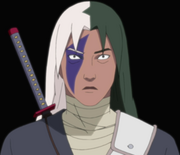 Fukai (フカイ, Fukai) ili Blu Bi je visoko rangirani šinobi Sela Oblaka i bivši džinčuriki osmorepe zveri Gjukija.
Pozadina
Iako je bio odličan nindža Fukai nije imao potpunu kontrolu nad Gjukijem. Često se žalio kada ide na misije sa Raikegeom, Killer Bijem i drugim nindžama.
Sposobnosti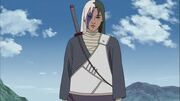 Iako njegove sposobnosti nisu prikazane u mangi je pretstavljen kao odličan nindža. Fukai je, verovatno, bio dobar poznavalac kendžicua zbog njegovog mača kojeg je stalno nosio. U animeu njegove  sposobnosti su bile dovoljno velike da ga je Kabuto oživeo za vreme Ćetvrtog nindža svetskog rata. Fukai je takođe i senzorski tip nindže.
Zanimljivosti
Fukai znači debeo, dubok ili blizak
U animeu njegovo ime je Fukai dok u Četvrtoj knjizi podataka njegovo ime je Blu Bi
Ad blocker interference detected!
Wikia is a free-to-use site that makes money from advertising. We have a modified experience for viewers using ad blockers

Wikia is not accessible if you've made further modifications. Remove the custom ad blocker rule(s) and the page will load as expected.