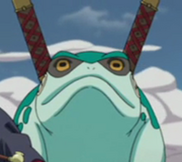 Gamahiro je velika žaba koja živi na planini Mjobaku. Njegovo ime se često izgovara samo kao Hiro.
Sposobnosti
Gamahiro poseduje dva velika mača, sa kojima veoma dobro rukuje, takođe je prikazao da ima i znaja o taidžicuu. Prvi put je prizvan od strane Džeraje tokom Oročimaruove invazije da pobedi džinovsku troglavu zmiju koju je lako porazio. Kasnije ga je prizvao Naruto tokom Pejnove invazije kada je Gamahiro ubio Nagatovog džinovskog bika. Gamahiro, Gamaken i Gamabunta su tri najveće i najjače žabe na planini Mijaboku.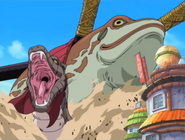 Zanimljivosti
Njegovo ime se otkriva tek u drugom delu.
U animeu, tokom Oročimaruove invazije Gamahiro je prikazan u zelenoj i braon boji, a tokom Pejnove invazije u zelenoj i tirkiznoj boji kao u mangi.
Ad blocker interference detected!
Wikia is a free-to-use site that makes money from advertising. We have a modified experience for viewers using ad blockers

Wikia is not accessible if you've made further modifications. Remove the custom ad blocker rule(s) and the page will load as expected.