Gamakiči je žaba koja živi na planini Mjobaku, on je sin šefa žabca, Gamabunte i brat Gamatatcua.
Izgled
Gamakiči u prvom delu ima narandžastu kožu sa ljubičastim šarama oko očiju, na grudima i stomaku. U prvom delu on je veoma mali i ima sivi prsluk. Gamakiči u drugom delu je mnogo veći ima mnogo veći prsluk, u ustima cigaretu i veliki mač. Ima i oko vrata okačenu kao neku kuglu.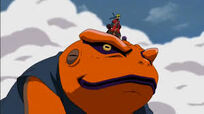 Ad blocker interference detected!
Wikia is a free-to-use site that makes money from advertising. We have a modified experience for viewers using ad blockers

Wikia is not accessible if you've made further modifications. Remove the custom ad blocker rule(s) and the page will load as expected.