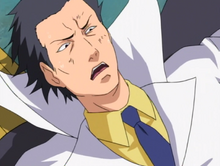 Gantecu je odbegli šinobi sela kamena na čunin nivou. Iz sela je pobegao kako bi živeo luksuznijim životom, poznat je kao Legendarni mračni šinobi (伝説の暗忍,Densetsu no Annin).
Pozadina
Gantecu tvrdi da je bio opasan čunin sela kamena, poznat kao legendarni Tamni Šinobi(伝説の暗忍,Densetsu no Annin).. On i Čosei su konačno prešli iz njegovog sela, i došli do odaje tunzakua, da traži luskuzniji život.
Ad blocker interference detected!
Wikia is a free-to-use site that makes money from advertising. We have a modified experience for viewers using ad blockers

Wikia is not accessible if you've made further modifications. Remove the custom ad blocker rule(s) and the page will load as expected.