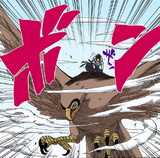 Garuda je veliki nindža soko i lična zver Saskea Učihe. Prvi put ga je Saske prizvao u svojoj borbi protiv Danza kako bi spasao sebe od smrti. Garuda je prilično velik soko s obzirom da Saske može da sedi na njegovoj glavi. Saske je pre Garude mogao da prizove zmije. U tome postoji izvesna simbolika koja se odnosi na to što zmija puzi po zemlji dok soko leti u nebo što je povezano sa Saskeovim napuštanjem Oročimarua.
Ad blocker interference detected!
Wikia is a free-to-use site that makes money from advertising. We have a modified experience for viewers using ad blockers

Wikia is not accessible if you've made further modifications. Remove the custom ad blocker rule(s) and the page will load as expected.