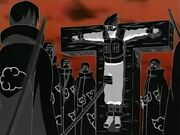 Gendžicu
 (幻術, 
Bukvalno značenje:
Tehnike Iluzije
) je tehnika koja je skoro ista kao i Nindžicu, ona zahteva dosta čakre i ručne pečate. Međutim razlika je da efekti Gendžicua stvaraju iluzije, umesto da napadaju telo žrtve, kao Tajdžicu ili Nindžicu. Tehnika Gendžicu se manipuliše do mozga žrtve uzrokujući poremećaj čulima, Gendžicu se može zaustaviti na par načina: Ako si sam, beži ili se predaj, ako imaš saborca, onda neka on pošalje čakru u tvoje telo i tako će Gendžicu nestati.
Zanimljivosti
Itači i Šisui su bili jedni od najboljih korisnika Gendžicua.
Iako Gendžicu ne bi trebalo da može da ubije osobu ali ipak u Itači Šindenu:Knjiga Tamne Noći Itači je Cukujomijem ubio Izumi Učiha
Pošto gendžicu nije stvaran, tehnike ne bi trebalo da budu sposobne ubiti žrtve. Međutim, Izumi Učiha je ubijena pomoću Cukujomija u "Itachi Shinden: Book of Dark Night".
Ad blocker interference detected!
Wikia is a free-to-use site that makes money from advertising. We have a modified experience for viewers using ad blockers

Wikia is not accessible if you've made further modifications. Remove the custom ad blocker rule(s) and the page will load as expected.