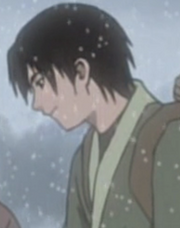 Hakuov otac je bio farmer koji je živeo u zemlji vode.
Pozadina
Hakuov otac je bio farmer i živeo je srećno sa svojom ženom i sinom, on je živeo u zemlji vode u malenom selu, pošto je tada bio rat seljani su koristili nindže za svoje oružje, najveći pobednici bili su oni koji su imali Kekei Genkai, zato su seljani tog sela mrzeli nindže koje su imali Kekei Genkai, međutim njegova žena je posedovala Kekei Genkai ali on to nije znao, kada se Haku rodio nasledio je Kekei Genkai od majke, kada joj je pokazao svoj Kekei Genkai ona ga je ošamarila i rekla mu da to više nikad ne koristi, međutim on je video Hakua sa Kekei Genkaiem i zamrzeo i njega i njegovu ženu, sledećeg dana Hakuov otac je okupio svoje seljane i zajedno sa njima ubio njegovu ženu, kada se spremao da ubije i Hakua, Haku je ubio i njega i ostale seljane svojim Ledenim Kekei Genkaiem koji je nasledio od majke. 
Ad blocker interference detected!
Wikia is a free-to-use site that makes money from advertising. We have a modified experience for viewers using ad blockers

Wikia is not accessible if you've made further modifications. Remove the custom ad blocker rule(s) and the page will load as expected.