Himavari Uzumaki (うずまきヒマワリ, Uzumaki Himawari) je mladi stanovnik Sela Lišća, član Uzumaki klana i potomak Hjuga klana.
Pozadina
Himavari je ćerka Naruta i Hinate i mlađa sestra Boruta. Ona dosta liči na majku, ali ima tragove na licu, kao Naruto od Kurame. Prvi put se pojavljuje u poglavlju 700.
Ličnost
Himavari je vesela, pažljiva i dobrodušna osoba. Pitala je svoju majku da li će se njenom ujaku Nedžiju svideti suncokreti koje mu je donela. Ona takođe brine o svom starijem bratu i obrnuto. Za razliku od njenog brata, Himavari je veoma zrela za svoje godine, pomažući majci u kućnim poslovima. Himavari je veoma bliska sa svojim roditeljima, kako im se obraća sa "mama" i "tata". Kada je Hinata bila povređena tokom napada Momošikija Ocucukija i Kinšikija Ocucukija, Himavari je stajala pored postelje svoje majke koju je lečila Sakura, zabrinuto ju je gledala i držala je za ruku. Takođe, ona je od svog dede nasledila strpljivost, pružati podršku i razumevanje za svog često odsutnog oca i njegovih dužnosti Hokagea, ali čezne da on bude kod kuće s vremena na vreme. Kakogod, Himavari nije bez izražavanja besa, može postati veoma borbena kada je isprovocirana, pokazujući zastrašujuću i nasilnu stranu, slično njenoj babi, što je dovoljno da Boruto pobegne i sakrije se od nje, a takođe uzrokuje da njen otac, čak i Kurama budu prestrašeni.
Izgled
Himavari je upadljivo slična svojoj majci, ima tamnoplavu kosu sa ravnim šiškama i frizurom hime-cut. Kao njenom bratu, kosa joj se postepeno proširuje na stranama i leđima i ima čuperak (ahoge, アホ毛, bukvalno značenje: budalasta kosa) na vrhu glave koji podseća na dršku lista. Ona je takođe nasledila očeve plave oči, "brkove" na obrazima, tršavu kosu i usta.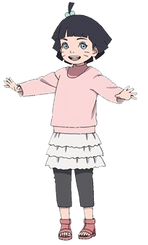 U "The Last: Naruto the Movie", Himavari je nosila ružičasti džemper, troslojnu belu lepršavu suknju, crne pantalone i par ravnih ružičastih sandala i šnalu sa par svetlozelenih bisera na njenom čuperku. U epilogu je nosila žutu košulju sa kragnom, dugim rukavima i narandžastim poprečnim šarama koje podsećaju na suncokret, crveni bundeva-šorc i žute šinobi-sandale. U "Boruto: Naruto the Movie" je nosila svetložuti džemper sa dugim rukavima, kapuljačom sa plavom potkošuljom koja ima šaru nalik na latice i dvoslojnu ružičastu lepršavu suknju. Ona takođe nosiduge, crne šarape sa otvorenim krajevima i ljubišastocrvenim šinobi-sandalama.
Sposobnosti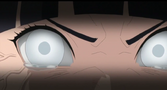 U kratkom manga stripu "Dan kada je Naruto postao Hokage".Probudila je Bjakugan i  pokazala da može da koristi nežni dlan.
Uprkos njenim mladim godinama, Himavari je pokazala značajan potencijal. Bila je stanju da zastraši svog genijalnog starijeg
brata
kada se naljuti i da nokautira svojeg
oca
na nivou
Kagea
sa jednim udarcem.
Zanimljivosti
Himavari i Boruto su članovi i Uzumaki i Hjuga klana.
Ime "Himavari" (向日葵) znači "suncokret".
Ad blocker interference detected!
Wikia is a free-to-use site that makes money from advertising. We have a modified experience for viewers using ad blockers

Wikia is not accessible if you've made further modifications. Remove the custom ad blocker rule(s) and the page will load as expected.