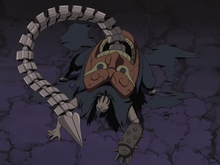 Hiruko (ヒルコ, Hiruko) je marioneta koga koristi šinobi, Sasori. Služi mu jedan kao od najboljih oklopnih marioneta, Sasori je dovoljno dobre građe da stane u Hiruka. Sasori je takođe ukrasio Hiruka sa Akatsuki odorom da ga drugi ne bi prepoznali. U animeu, Hiruko je ljudska lutka napravljena od leša uglednog šinobija. Prema Čijo, Hiruko je Sasorijeva glavna lutka.  
Sposobnost oružja i izmene
Slabija strana lutkara je ta kada on koristi lutku, neprijatelj može da ga napadne ili čak i ubije, to je slabija forma lutkara. Sasori je Hiruka stvorio da bi zaobišli tu slabost, sa lutkom postoji i oklop. Nakon što je oslabio Sakuru i Čijo, Sasori prelazi na lutku Trećeg Kazekagea. Sva najmoćnija Sasorijeva oružja su ugrađena u Hiruka, i obloženi specijalnim otrovom, koji bi osobu posle tri dana paralizovao da ne bi mogao da koristi nagle pokrete i normalne poze. Oklop je moćan kao i lutka, to joj je dodatak, koji je Čijo videla poslednjih dvadeset godina. Leva ruka je obložena drvetom koje u sebi krije iglice obložene otrovom.
Zanimljivosti
Hiruko (蛭 子) se može prevesti kao "dete pijavica".
Hiruko je Japanski Bog ribarstva.
Hiruko i Treći Kazekage su Sasorijeve omiljene lutke.
Pojavljivanje
Hiruko se pojavluje u Naruto Šipudenu: Epizoda 20.
Poglavlje 255, strana 5. 
Ad blocker interference detected!
Wikia is a free-to-use site that makes money from advertising. We have a modified experience for viewers using ad blockers

Wikia is not accessible if you've made further modifications. Remove the custom ad blocker rule(s) and the page will load as expected.