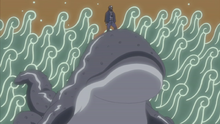 Ibuse(イブセ, Ibuse) je bio veliki Salamander i lična zver koju je mogao da prizove Hanzo. On je bio veoma odan Hanzu i pomagao mu je u svim borbama.
Pozadina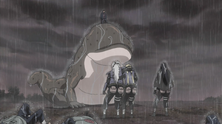 O Ibuseovoj prošlosti se ne zna mogo ali je poznato da su se on i Hanzo u nekom trenutku u prošlosti suočili sa tri Legendarna Sanina kao i protiv Čijo koja je razvila protivotrov od Ibuseovog otrova.
Sposobnosti
Ibuse je bio veoma moćna zver. Bio je od prilike veličine Gamabunta tako da je Hanzo mogao da mu stane na glavu.
Otrov
Ibuse je kao Salamander imao sposobnost pljuvanja otrova ili otrovne magle. Ovaj otrov je mogao da ubije skoro svakoga jer je bio smrtonosan. Sem otrova mogao je i da se sakrije u zemlju i da se kreće kroz nju kako bi došao do protivnika neprimećen.
Ad blocker interference detected!
Wikia is a free-to-use site that makes money from advertising. We have a modified experience for viewers using ad blockers

Wikia is not accessible if you've made further modifications. Remove the custom ad blocker rule(s) and the page will load as expected.