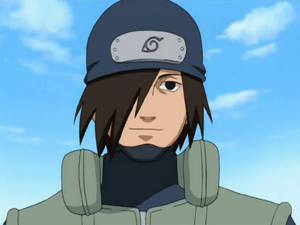 Izumo Kamizuki (jap. 神月イズモ,engl. 
Kamizuki Izumo
)  je čunin nivo nindže iz sela lišća.
Sposobnosti
Izumo može da koristi vodeni stil.
Pregled priče
Prvi deo
Prvi put se pojavljuje za vreme čunin ispita kada je bio jedan od nadgledača ispita.
Viđen je kako zajedno sa Kotetcuom posmatra drugi deo čunin ispita.
Drugi deo
Za vreme poglavlju o Hidanu i Kakuzu bio je član nindža šotai, zajedno sa Kotetcuom, Šikamaruom i Asumom. Borio se sa njima dvojicom i prisustvovao Asuminoj smrti.
Tokom četvrtog šinobi rata ponovo se suočio sa Kakuzuom
Ad blocker interference detected!
Wikia is a free-to-use site that makes money from advertising. We have a modified experience for viewers using ad blockers

Wikia is not accessible if you've made further modifications. Remove the custom ad blocker rule(s) and the page will load as expected.