Jahiko

Jahiko kao vođa Akackija

Ime na japanskom

(弥彦, Yahiko)

Pol

Muški

Broj Godina

Deo II: 15

Visina

Deo II: 176.5 cm

Težina

Deo II: 57.2 kg

Krvna Grupa

O

Kekei Genkai

Nema

Klasa

N/A

Pripadnost

Selo Kiše, Akacki

Nindža Rank

N/A
Jahiko (弥彦, Yahiko) je bio šinobi sela kiše i osnovao je Akacki. Njegovo telo je poslužilo kao jedno od šest mrvih tela koje je Nagato koristio.
Bio je jedan od siročića sela kiše.
Pozadina
Jahiko je kao vrlo mlad ostao siroče, pa je bio prinudjen da krade hranu kako bi preživeo. Ubrzo se udružio sa Konan kako bi lakše preživeli, a kasnije im se pridružio i Nagato. Lutajući jednom prilikom su naišli na Tri legendarana Sanina. Oročimaru je predložio da im skrate muke, ali Džeraja govori da će se on brinuti o njima.Jednom prilikom Nagato i Jahiko bivaju napadnuti i Nagato ubija napadača.Džeraja tada otkriva Rinegan kod Nagatoa i odlučuje da počne da uči siročiće nindža tehnikama. Nekoliko godina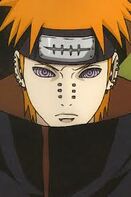 posle Džerajinog odlaska Akacki se borio sa Hanzom. Hanzo im predlaže primirje, ali je to bio izgovor da otme Konan i pripreti Akackiju i zahteva Jahikovu smrtz. Hanzo je naredio Nagatu da ubije Jahika ili će on ubiti Konan. Nagato je istraumiran, ali Jahiko naleće namerno na nož govoreći da Konan i on moraju preživeti. Posle Jahikove smrti, Nagato je ubio Hanzoa i celu njegovu porodicu.
Jahikovo telo je Nagato iskoristio kao Deva Pejn telo.
Ličnost
Jahikova ličnost je slična kao Narutova. Želeo je da postane vođa svog sela, kao i celog sveta da bi mogao da stvori mir takođe je hteo i da obustavi kišu koja pada nad selom kiše jer je mislio da su te kapi jednake suzama koje je narod propatio u selu. Mnoge njegove osobine Nagato je usvojio posle Jahikove smrti.
Sposobnosti
Jahiko je bio poznavalac mačevanja i vodenog stila. Bio je poštovan među Akacki članovima.
Ad blocker interference detected!
Wikia is a free-to-use site that makes money from advertising. We have a modified experience for viewers using ad blockers

Wikia is not accessible if you've made further modifications. Remove the custom ad blocker rule(s) and the page will load as expected.