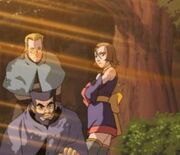 Kamizuru Klan je poreklom iz Sela kamena, članovi koriste pčele za borbu. Takođe od sv
ih Cučikagea Prvi, Treći i Četvrti potiču iz tog klana.
Pozadina
Godine pre početka serijala, Selo kamena je pokušalo da dovede invaziju na Selo lista, Kamizuru klan je bio odgovoran oko planiranja strategije, ali Aburame klan ih je pretekao, i pobedio. Posle toga invazija je bila neuspešna i takođe su izgubili svoj status i poštovanje u Selu kamena. Posle te sramote broj korisnika klana je počeo da opada.

Članovi
| Član | Status |
| --- | --- |
| Išikava (Prvi Cučikage) | Mrtav |
| Jibači (Samo u animeu) | Pretpostavlja se da je mrtav |
| Kurobači (Samo u animeu) | Mrtav |
| Suzemebači (Samo u animeu) | Pretpostavlja se da je mrtva |
| Kurocuči (Četvrti Cučikage) | Živa |
| Onoki (Treći Cučikage) | Živ |
| Pčelar (Samo u noveli) | Živ |
Ad blocker interference detected!
Wikia is a free-to-use site that makes money from advertising. We have a modified experience for viewers using ad blockers

Wikia is not accessible if you've made further modifications. Remove the custom ad blocker rule(s) and the page will load as expected.