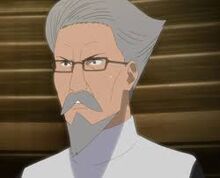 Kanpu  (カンプ, Kanpu)  je čuvar sirotišta koje se nalazi na periferiji sela Lišća.
Ličnost
Kao što se može videti, Kanpu je veoma brižan čovek kada je branio mladog Kabuta od Kairi i kad je postao besan zbog toga što Danzo želi da uzme jedno dete iz sirotišta.
Igled
Kanpu je starac koji ima sedu bradu, sede brkove i crne oči. On takođe nosi pravougaone naočare i crni kimono sa belom keceljom i belim ukrasima.
Ad blocker interference detected!
Wikia is a free-to-use site that makes money from advertising. We have a modified experience for viewers using ad blockers

Wikia is not accessible if you've made further modifications. Remove the custom ad blocker rule(s) and the page will load as expected.