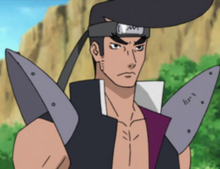 Kazami je šinobi genin nivoa iz Sela skrivenog među Travom. On se pojavljuje u fileru i u timu je zajdno sa Buramijem i Mujamijem.
Sposobnosti
Kazami je dobar u Tajdžicu borbi i može da koristi Vetroviti stil.
Pozadina
On, Mujami i Burami su se borili sa timom Kurenai. Prvo su ih prevarili i uzeli im svitak, a zatim su bili poraženi. Kazami se tom prilikom borio sa Hinatom od koje je izgubio.
Izgled
Kazami ima neobičnu frizuru iz 80-tih, nosi svoju Travnastu traku u ima velike obrve sličnne kao Lijeve i crne oči.
Ad blocker interference detected!
Wikia is a free-to-use site that makes money from advertising. We have a modified experience for viewers using ad blockers

Wikia is not accessible if you've made further modifications. Remove the custom ad blocker rule(s) and the page will load as expected.