Kazekage klan je šinobi klan iz Sela Peska.Pravo ime klana je nepoznato.Klan je veoma poštovan u celom selu.Nema mnogo informacija o ovom klanu.kada se Temari udala za Šikamarua ovaj klan je zadobio veze sa Nara klanom.
Sposobnosti
Članovi ovog klana su vešti u vetrovitom stilu.Neki članovi poseduju Kekei Genkai Magntetni stil.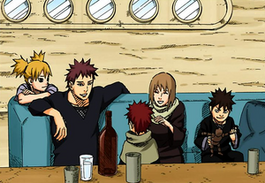 Članovi
| Član | Status |
| --- | --- |
| Rasa | Mrtav |
| Karura | Mrtav |
| Gara | Živ |
| Kankuro | Živ |
| Temari | Živa |
Zanimljivosti
Šikadai Nara je potomak ovog klana preko njegove majke
Nije poznato da li su Prvi,Drugi i Treći Kazekage iz ovog klana.S obzirom na to da je treći Kazekage bio korisnik Magnetnog Stila to je velika verovatnoća
Isto je i za Šukakuove džinčurikije, pošto je pravilo da džinčurikiji dolaze iz Kageovog klana velika je verovatnoća da su prvi Šukakuov Džinčuriki i Bunpuku iz ovog klan
Neki članovi ovog klana su imali visoke pozicije u svom selu
Rasa je bio 4.Kazekege
Gara je trenutni 5.Kazekage
Temari je trenutni ambasador Sela Peska u Šinobi Uniji
Ad blocker interference detected!
Wikia is a free-to-use site that makes money from advertising. We have a modified experience for viewers using ad blockers

Wikia is not accessible if you've made further modifications. Remove the custom ad blocker rule(s) and the page will load as expected.