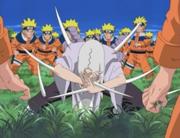 Kekei Genkai ( Krvna linija) su sposobnosti koje se prenose sa generacije na generaciju u određenom klanu.
Kekei Gankai koji se manifestuje kroz oči naziva se Doudžicu. Dok većina ostalih nastaju spajanjem dva elementarna tipa. Moguće je da jedan nindža ima više kekei genkaia.
Mogućeje preneti kekei genkai na drugu osobu, kao što su to uradili Obito i Kakaši ili kao što je Oročimaru ubrizgao DNK u Jamata. Međutim nije ista sposobnosti korisnika da koriste kekei genkai, kao kod članova krvne loze.
Neki Kekei Gankai se pojavljuju kod osoba koje nisu u srodstvu kao npr Lava stil i Magnetni stil.
Postoji napredna varijenta koja se naziva kekei tota.
Lista kekei genkaia
Para stil
Eksplozivni stil
Ledeni stil
Magnetni stil
Olujni stil
Drveni stil
Toplotni stil
Šaringan
Mangekjo Šaringan
Bjakugan
Rinegan
Tensingan
Šikocmujuaku
Sakonov i Ukonov neimenovani kekei genkai
Kekei Genkai Džugovog Klana
Brzi stil
Mračni stil
Čelični stil
Ranmaruov neimenovani doudžucu
Kekei genkai Kurama klana
Ad blocker interference detected!
Wikia is a free-to-use site that makes money from advertising. We have a modified experience for viewers using ad blockers

Wikia is not accessible if you've made further modifications. Remove the custom ad blocker rule(s) and the page will load as expected.