Kidomaru (jap. 鬼童丸,engl. Kidōmaru)  je bio šinobi iz sela sakrivenog u zvuku i član četvorke zvuka.
Sposobnosti
Prema Oročimaruu, Kidomaru je najpametniji član četvorke zvuka, bio je veoma vešt strateg i kao i ostatak svog tima bio je dobar korisnik barijera. Bio je veoma dobar strateg, jako brzo je analizirao svoje protivnike i nalazio im slabe tačke, voleo je da se poigrava sa svojim protivnicima sve do ih ne ubije, Kao i ostatak četvotke zvuka imao je znak kletve.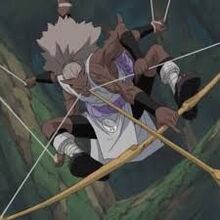 Pregled priče
Kidomaru se prvi put pojavljuje za vreme invazije na selo lišća kada je zajedno sa ostatkom svog tima napravio veliku barijeru oko mesta gde su se borli Oročimaru i Hiruzen.
Kasnije je poslat od strane Oročimarua da zajedno sa ostatkom četvorke zvuka dovede Saskea Učihu. Kada je stigao u Konohu Saske je dobrovoljno odlučio da pođe. Na putu ka selu zvuka, četvorka se susreće sa dva džonina iz sela lista i koriste svoje znakove kletve da ih pobede. Pošto Džirobo nije uspeo da zaustavi sve članove tima iz sela lišća već samo Čodžija, Šikamaru i njegov tim ih ponovo napadaju. Kidomaru stupa u borbu sa Nedžijem, koji jedini ima odgovor na njegove sposobnosti, Nedži na kraju ubija Kidomarua.
Zanimljivosti
Bio je jedini član četvorke zvuka koji je nosio traku sela zvuka.
Kido znači demonsko dete, a maru je prefiks za muška imena u japanu.
Ad blocker interference detected!
Wikia is a free-to-use site that makes money from advertising. We have a modified experience for viewers using ad blockers

Wikia is not accessible if you've made further modifications. Remove the custom ad blocker rule(s) and the page will load as expected.